Safekloud
Store, organize, and share files with colleagues, friends, and family
GDPR-compliant storage in Sweden
Share images, documents, and other files
Receive files from others to protected folders
Share whole folders or single files
Requires only a web browser
Client apps for Windows, macOS, Linux, iOS, and Android
Safekloud is a service from WebbPlatsen in Sweden. We have provided Internet solutions since 1998.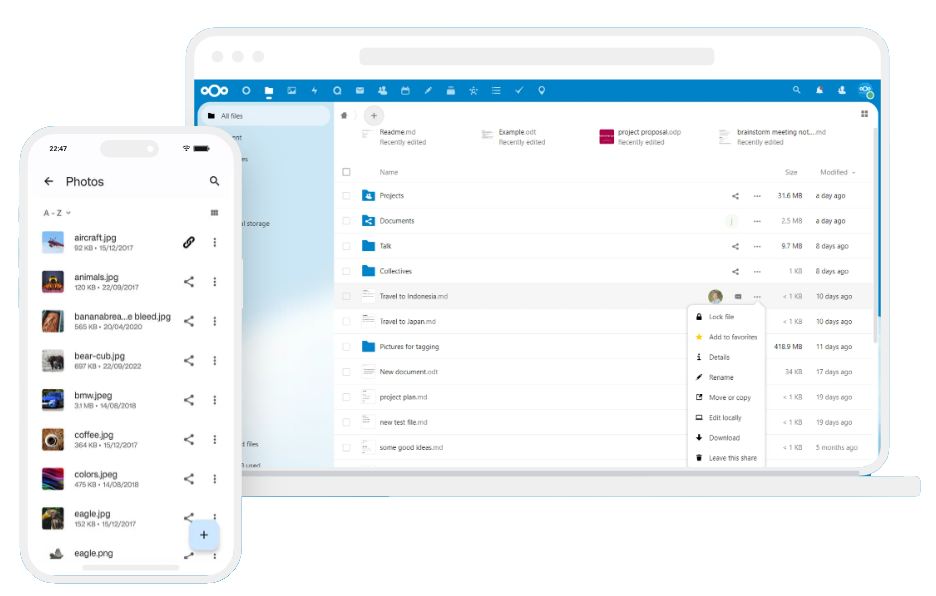 No nonsense
Simply put, Safekloud is a service based on Nextcloud with all data stored and hosted in Sweden
Nextcloud is an open platform for storing, sharing, and collaboration.
You really don't need anything else, except a modern web browser, to manage and organize your data.
Upload your snapshots
If you choose to install the Nextcloud client on your iOS or Android smartphone or tablet, you can choose to automatically upload your beautiful snapshots to your Safekloud account.
Uncomplicated sharing
Share your files with colleagues, friends, and family. Sharing links can be set to expire after a given date, and/or password protected for added security.
Receive files
Create a drop folder to receive files securely. You simply send a link containing the drop folder, and the recipient can upload files directly to that folder without gaining access to your other files. No more sending huge e-mails with photos, videos, and/or sensitive documents.
FAQ
Here are the answers to some of the most frequently asked questions. If you have other questions, or want to know more about Safekloud, Nextcloud, and/or Collabora Online, please don't hesitate to get in touch with us at support@webbplatsen.se
Any modern web browser works with Safekloud, including Firefox, Chromium, Brave, Safari, and Chrome.
If you need to install clients locally for synching photos, documents, and other files, the supported platforms are Linux, Windows, macOS, iOS, and Android.
You simply upgrade to a bigger plan, and your available storage is increased.
Safekloud is a shared platform based on Nextcloud. Some apps are available, but not all. If you are interested in a fully managed and isolated Nextcloud instance for your company or organization, check out WebbPlatsen's other Nextcloud plans.
If you choose Nextcloud hosting from WebbPlatsen, you have total freedom as to which apps are installed. In such an environment, you may also want to inquire about Collabora Online for a better Office experience in the cloud. WebbPlatsen is an authorized Collabora partner.
All of the data managed by the Safekloud service is stored in Sweden (EU).